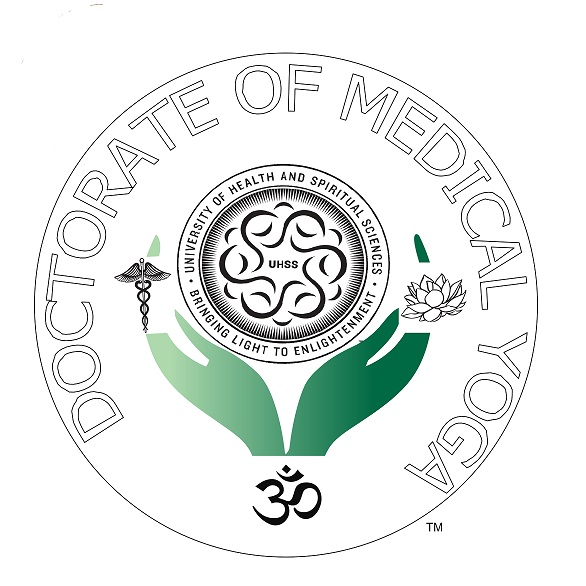 The UHSS™️ Presents
The Doctorate of Medical Yoga™️
This program will provide candidates with the necessary foundational knowledge regarding foods, medications, asanas(basic and advanced) which have the best potential to adjunctively have a positive impact in preventing and addressing these conditions. Our program will present an introduction to many methodologies which will be the required foundational knowledge for the Doctorate of Medical Yoga candidate for their thesis. Some of these include acupuncture, acupressure, applied kinesiology, osteopathic manipulation, cranial sacral therapy, homeopathy, Traditional Chinese Medicine, floral and herbal medicine, Ayurvedic medicine, diet, counseling, music therapy and vibrational therapy, chelation, colonics, hydrotherapy detoxification, enzyme therapy, essential oils, environmental medicine, light therapy, iridology, pulse & tongue diagnosis, oxygen therapies and more.


Doctorate of Medical Yoga™️
Before enrolling into the UHSS™️ doctorate programs you are required to submit submit a typed, single spaced, two page essay. This essay must be approved by our Board of Trustee's. Your essay must be based on the following criteria.
How do the principles obtained from the Masters program at the UHSS™️ and information in the books you have read apply to a model spiritual health center that you would envision creating?
Some examples you may be considering (which is part of your required doctorate model" may be a spiritually based; counseling center, drug & alcohol center, rehab center, hospice, missionary center & different health related projects you may consider.
Briefly describe how the fundamentals of the course can be incorporated into the project to make it sustainable, operationally effective and beneficial to those who are served by it.
Once completed this essay must be sent to [email protected]. Once the UHSS™️ Board of Trustee's review your essay you will be notified of your acceptance. 
The UHSS™️ is honor to be the top Global Naturopathic Spiritual Medicine Research University. Once accepted into the UHSS™️ doctorate programs you will be your studies. below is a sample of your requirements for graduation.
1. Completion of a minimum of five (5) courses from each of the UHSS™️ schools, (The mind, the body and the spirit) for a minimum of 15 courses.) With a passing grade of 70%.
2. Completion of 100 hours of advanced medical yoga/ qigong training / advanced yoga anatomy /advanced overview of major health challenges with analysis of protocols for care/counseling.
3. Ongoing dialogue with mentor.
(Note: Ask the admission office about available.)
Example Curriculum
Available in days

days after you enroll

Course Outline and Description
Available in days

days after you enroll

WHAT IS YOGA?
Available in days

days after you enroll

HAWAIIAN SPIRITUALITY
Other Popular Programs offered
Check out some of our other a fully accrediated programs.

Check your inbox to confirm your subscription